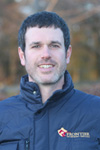 Chris O' Kane MVB MRCVS DBR
Chris is from Dungiven in County Derry. He graduated with honours from University College Dublin in 2000.
Having started his professional career in Glin Co. Limerick, he then travelled to New Zealand and the UK. Both in Levin on the North Island and Canterbury on the South Island, he learned much about the metabolic and performance issues common in large grass-based dairy herds.
Working at Moorlands Veterinary Centre, Leek, located between the three ʻshires' of Cheshire, Staffordshire and Derbyshire the work was varied, most mornings beginning with routine preventative visits comprising fertility examinations and production assessments.
During his time in the UK he began studying for a Diploma in Bovine Reproduction at the University of Liverpool, completed in 2006. He has a particular interest in surgery of both large and small animals, and continues to focus on bovine and equine fertility.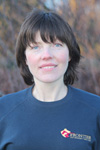 Therese Furlong MVB MRCVS
Therese is from Enniscorthy, County Wexford. Therese received an entrance scholarship to U.C.D. where she studied Veterinary Medicine. During the five years, she was awarded for Physiology/ Biochemistry and Large Animal Medicine.
After working in Youghal and Listowel, Therese travelled to New Zealand, where she worked in Temuka. She then spent three years in mixed practice in Buxton, Derbyshire, England.
She returned to County Wexford in 2007. She has a particular interest in small animal surgery, veterinary cardiology and stud and foal medicine.
Therese enjoys continued professional development and attends the London Vet Show every year.
She is currently studying for a certificate in Small Animal Surgery.